Bachelorette & Bridal Escape
We are a Top-Rated Bachelorette Destination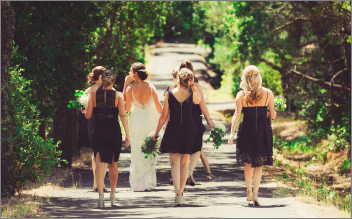 Nashville has been rated a top destination for bachelorette parties by Enchanted Brides and earned a five-star rating on YourBachParty.com.
Located right in the heart of downtown, Salon J and Day Spa has been pampering parties for 20 years.
---
Bridal Retreat Services
Personalize your retreat by choosing from the following individually-priced services.  If you choose optional service add-ons, such as aromatherapy, the cost of that is added to the price below.  Each mini-session is about 30 minutes long.
Mini Swedish Massage … $50+
Pedicure … $45
Natural Nail Manicure … $25
Paraffin Hand Treatment … $10
Scheduling note:  We enjoy large parties and being part of a special day.  Because each person chooses a personalized set of services, we may have to start the services at different times in order to accommodate their selections.  We have a spa lounge if there are  in-between service times where you can enjoy refreshments with your friends, or share pics of your day with our free Wi-fi.
---
Wedding Day Bridal Escape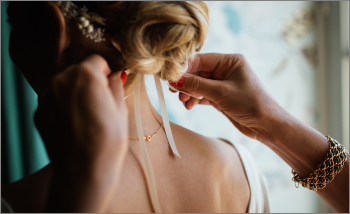 Rest assured you've found one of the top retreats in Downtown Nashville to meet all your bridal needs.
We offer services for bridal parties for up to 15 guests, complimentary consultations on up-dos and makeup, and trial services at a 20% discount.
For large groups, we also offer a complimentary choice of either red/white wine or fresh mimosas. Light snacks are provided.
---
These are our most popular wedding day services:
Bridal Updo … $75
Bridal Makeup Artistry … $85
Bridal Airbrush Makeup Artistry … $120
Shampoo & Blowout … $50+
Shampoo, Blowout & Hot Tool Style … $65+
Bridal Party Makeup Artistry … $65
False Eyelash Application … $25
Individual False Eyelash Application … $35
Brow Tinting … $30+ per application
Gel Manicures … $35+
Gel removal…  $5
Natural Nail Manicures … $25
Pedicures … $45

On-Location Services
If you are in Downtown Nashville for your wedding, we also offer on-site services.  Our travel fee is $65 per stylist/artist in addition to service cost.
Booking Appointments
We do require a credit card to hold reservations, but there are no up-front  charges.
If you choose optional service add-ons, such as aromatherapy, the cost of that is added to the regular service price.
Coupons and special offers cannot be used for Bridal Escape Packages.
Please also carefully read our Cancellation Policy below before booking.
We appreciate your business, and look forward to having you all in!
If you have any questions about booking your escape, please contact us at salonj@salonj.com or call (615) 242-2343.
Cancellation Policy
Because we do not charge a deposit up front, we must enforce a cancellation  policy.
If you must cancel or change an appointment, please notify us one week in advance of the service date. For cancellations within 24 hours of the appointment, the full price of the service booked will be charged to the credit card used for the reservation.
We have pre-planned staff and services especially for your party, so changes may not be made on the day of the party, and no-shows will be handled as cancellations. As the organizer, the party coordinator is responsible for making sure the group is aware of these terms.