Great Lengths Hair Extensions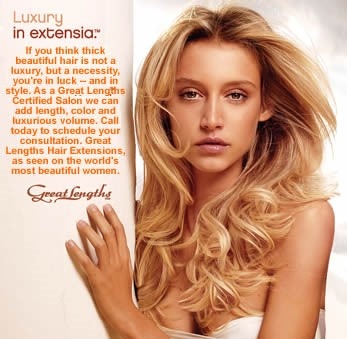 Salon J uses the best:  Great Lengths™ hair extensions. Extensions made of human hair are special ordered to match your own color, then each piece is fused to an individual strand of hair for a natural look and feel. Our Great Lengths Specialists have over 25 years of experience!
Call (615) 242-2343 for your complimentary consultation.
The Hair
100% of the hair sourced for Great Lengths is from the temples of India. This is the finest source of virgin hair available in the marketplace that is most compatible with Caucasian and European hair textures. The quality of Great Lengths hair is unmatched.
The Colorization Process
The only processes performed on Great Lengths hair is a colorization process. Great Lengths is the only company that does not use any toxic chemicals in the de-pigmentation and pigmentation process of the hair. The result is colorfast hair that has not been damaged by ammonia or bleach chemicals in removing the original hair color. To learn more about this, click here
The Application
In 1992, Great Lengths International developed and patented the first pre-tipped, synthesized keratin bond polymer. The GL Synthesized Keratin Bond is specifically designed to mimic the molecular structure of human hair, which gives Great Lengths bonding functionality not available in any other hair bonding compound. The Great Lengths bond has the ability to expand and contract with human hair. For example, when your hair is wet, the hair shaft expands; when it dries it contracts. Bonds that do not have the same structure as your hair will soon begin to shed the extensions and ultimately slide off completely because the bond is being stretched without being able to contract each time the client's natural hair expands and contracts. This is a Great Lengths exclusive feature:  the extensions are virtually impossible to detect and offer tremendous versatility.
The Stylists
Great Lengths certified stylists have attended the most intensive and effective training which has been recognized as the industry's best in category. No other company requires or offers the in-depth education that Great Lengths does. The education and training prepares stylists for optimum service delivery to clients.