Skincare & Body Treatments

Skincare
Each treatment with our Aesthetician incorporates a consultation + analysis to ensure we provide the best treatment to meet your skincare needs.  We use Glo Skin Beauty professional treatments. and when combined with home care products it can deliver transformative results.  Researched and developed with innovative, active ingredients, our professional products complement our retail products seamlessly, delivering your personalized prescription for healthy, beautiful skin.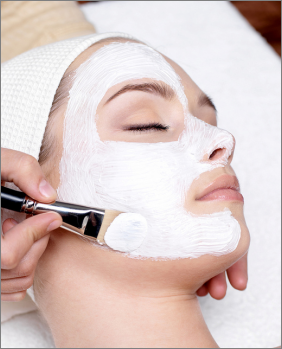 Salon J Specialty Facial
This luxurious facial is designed to smooth and soften your complexion as it de-stresses your mind and body.  Your skin will be gently cleansed with an aromatherapy steamer, and while your customized mask is applied you will receive an arm and hand massage. While taking in the benefits of an aromatherapy steam towel, you will enjoy a shoulder massage, and then a facial massage to help boost circulation and relax the facial muscles. This special treatment has been a favorite among our clients as well as travelers seeking pure luxury in their downtime.
60 minutes … $95
Mens grooming facial 
Includes cleansing, rinsing, steaming, extractions, toning and a moisturizer. These are important steps to keeping your skin soft, supple and your complexion even.
Regulating Acne Facial
Includes a special skin balancing complex designed to absorb excess sebum. It promotes a clean, matte appearance, leaving your complexion clear and refined.60 minutes … $90
Microdermabrasion
A natural way to evenly exfoliate the skin without chemicals, laser treatments or downtime. This process helps diminish the appearance of acne, minor scarring, fine lines, wrinkles, sun damage, and age spots. Learn more»
Face only… $95 
Face and Decollete  … $125
Dermaplane Express – 5 Steps to Success! We cleanse, apply fruit acid solution, use a powerful hydrating serum to reduce redness and increase hydration, then apply a cooling peptide cream and tinted SPF.
About 45 minutes … $80
Dermaplane Glow Facial – Our most popular intensive beauty facial because its instant, reduces hyperpigmentation, and stimulates collagen production! The lactic acid peel stimulates your skins natural hydration + immune system which helps reduce redness and brightens the skin. The treatment includes double cleanse, enzyme exfoliation, fruit acid solution, dermaplaning, Lactic acid peel, cooling peptide hydration, eye + lip protection and finally  SPF an hour and a half … $145
Customized Layered Peels
Layered peels treat pigment discoloration, acne, and they lighten and brighten skin, which lessens the appearance of fine lines and wrinkles.
Single treatment about 1 hour… starting at $100+
Eyebrow Tint – $35.00
Eyebrows are tinted and sit with tint on for 10 minutes. Tint will last 2-4 weeks.
Eyelash Tint – $45.00
Eyelashes tinted. Tint sits on for 10 minutes. Tint will last 2-4 weeks.
Eyelash and eyebrow tint- $70
Body Treatments
Paraffin Dip … Hands or feet $10
Ear Candling
A centuries old tradition — ear candling continues to be a soothing and relaxing treatment for the ears. A cylinder is gently placed in the ear and lit on the opposite end to create a slow vacuum. With no discomfort, old ear wax and toxins are removed, helping to relieve pressure, wax build-up, and inner ear blockage.
about 45 minutes … $50
Aromatherapy Back Facial
A deep cleaning, toning, exfoliating treatment with a hydrating mask and a relaxing back massage.
60 minutes … $95 to add extractions it is $15 
Late Policy  …. In effect as of October 11, 2019 **In order for us to keep quality service to all of our guests we ask that you arrive 5 minutes early or on time.**
** Arriving 10 minutes late for your service will risk your service of being shortened or rescheduled
as well as a $5 late fee.
**Arriving 15 minutes late for your scheduled appointment will result in a cancelation or rescheduling.
Thank you for your cooperation – Management J