Skincare & Body Treatments

Skincare
Each treatment with our Aesthetician incorporates a consultation + analysis to ensure we provide the best treatment to meet your skincare needs.  We use Dermalogica professional treatments and when combined with home care products it can deliver extraordinary results.  Researched and developed with innovative and active ingredients, our professional products complement our retail products seamlessly, delivering your personalized prescription for healthy, beautiful skin.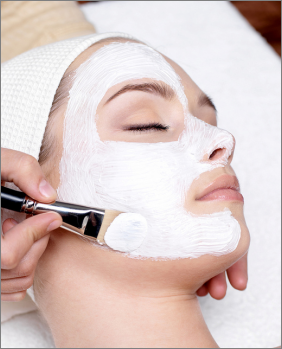 Salon J Basic Facial
This facial is designed for the busy, on-the-go client who wants to care for their skin in the best way. This facial delivers an instant fresh face and is easy to integrate into your busy schedule. This facial includes: a double cleanse, a gentle exfoliation, a masque, followed with a toner, moisturizer and SPF that leaves skin bright, smooth and refreshed. Add-ons are available … about 30 minutes starting at $65
Salon J Specialty Facial 
A facial specially designed with you and your skin goals in mind. After a consultation and skin analysis your skin will receive a specific facial just for you! Designed to diminish oil build-up, and re-texture you skin. Revealing instantly brighter skin. During the facial you will receive: steam to open your pores, a deep-pore double cleanse, exfoliation and a specific masque suited to your skin. Next, a toner and moisturizer, followed by an SPF. This facial also provides a deep massage of shoulders and neck and a pressure point massage. Add-ons are available … about 50 minutes starting at $85
Salon J Teen/Acne Facial
A purifying facial that will deep clean pores, provide extractions and the client will also receive recommendations for at home care. All steps during this facial will be aimed at deep cleansing the skin and returning it back to a calm and soothed state. This facial works best with bi-weekly/monthly treatments and at home care to keep the best results.  .. about 60 minutes – $90
Microdermabrasion Facial
A diamond tip machine is used to naturally exfoliate the skin and pull impurities out.  This facial provides your skin with everything from the Salon J Specialty Facial along with the physical exfoliation by our trained and licensed Aesthetician. Microderm facials help with diminishing the appearance of acne scaring, fine lines, wrinkles, sun damage, and age spots. Leaving your skin smooth, fresh and glowing! … about 70 minutes – $100
Face and Décolleté – $130
Dermaplane Facial
A surgical steel blade is used to gently remove the top layer of dead skin and peach fuzz from the face. This facial provides your skin with everything from the Salon J Specialty Facial along with the physical exfoliation by our trained and licensed Aesthetician. Dermaplane facials provide many benefits, such as: reduce appearance of fine lines and acne scars, deeper product penetration, smoother make-up application and smooths skin texture … about 70 minutes – $110
Without Facial – $70
Customized Chemical Peel Facials
Peels are used to treat multiple skin conditions such as: pigment discoloration,  acne, fine lines, wrinkles and many more. This facials includes a double cleanse, toner, moisturizer and SPF …  starting at 50 minutes – Starting at $100
Facial Add-Ons
Jelly Masks – $15 – Different options are available and one will be chosen to suit your skin and skin goals. Mask will be left on for 8-10 minutes and a quartz roller will be used to infuse the product deeper into your skin. 
High Frequency – $15 – Kills acne causing bacteria, helps diminish fine lines/wrinkles, lessens the appearance of hyper-pigmentation and allows products to penetrate deeper into the layers of the skin. Will add an additional 10 minutes to the chosen facial. 
Dermaplane – $35
Eyebrow Tint – $30.00
Eyebrows are tinted to color based on client's desires. Tint will last 2-4 weeks.
Eyelash Tint – $45.00
Eyelashes are tinted to color based on client's desires. Tint sits on for ~10 minutes. Tint will last 2-4 weeks.
Eyelash and Eyebrow Tint- $65
Body Treatments
Paraffin Dip … Hands or feet $10
Ear Candling
A centuries old tradition — ear candling continues to be a soothing and relaxing treatment for the ears. A cylinder is gently placed in the ear and lit on the opposite end to create a slow vacuum. With no discomfort, old ear wax and toxins are removed, helping to relieve pressure, wax build-up, and inner ear blockage.
about 45 minutes … $75
Back Facial – 60 minutes … $95 to add extractions it is $15 extra
A deep cleaning, toning, exfoliating treatment with a hydrating mask and a relaxing back massage. Extractions can be provided if client wants to add-on to the service
Late Policy
In order for us to offer quality service to our guests, please arrive 5 minutes before your service. Arriving 5 minutes late for your service may result in your service being shortened or rescheduled. Arriving 10 minutes late for your scheduled appointment will be treated as a same day cancellation or may be rescheduled.